| Start Date: | Duration: | Level: | Course location: | Course Type: |
| --- | --- | --- | --- | --- |
| September | 2 Year | Level 3 | Bede Campus | Full-time Vocational |
What's it all about?
If you enjoy creative thinking and developing imaginative solutions to complex problems or wish to progress to further education specialising in web design, software and App development and programming then this course is for you!
You will need four GCSEs at grade C/4 or above including Maths and English. You will also need to demonstrate excellent IT skills and show a keen interest in software, web, and programming.
| Study level | Cost | Additional fees |
| --- | --- | --- |
| 19+ | please enquire | If you are aged between 19 and 23 years old (on the first day of your course) and do not already have a full Level 3 of higher qualification, you will not have to pay course fees. This may be different for learners studying on a course in the workplace. If you are aged 19 or over, on the first day of your course, studying at Level 3 or above, you are able to apply for an Advanced Learner Loan to cover the costs of your course, similar to arrangements for higher education students. |
You will be taught using a range of teaching techniques including lectures, web 2.0 tools, group work, quizzes and collaboration via the latest technologies. You will complete projects set with an employer focus and gain valuable experience through realistic working environments.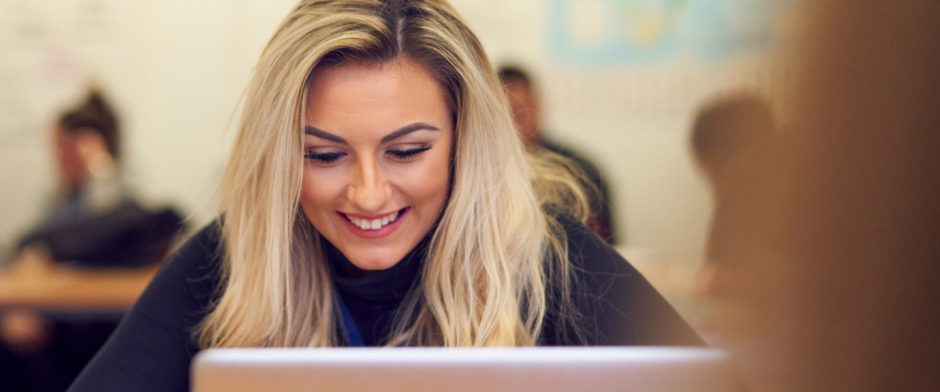 What's next?
You could specialise further in your chosen field of IT to a Higher Education degree course or progress to any of the very popular career routes in systems analysis, software development, animation, web authoring or Technical support specialisms.
Why college is different to school

A fresh start
Sometimes you just need a clean break to become the person you were destined to be. Starting college is the perfect opportunity to break free and become that new person!

New people
Our diverse student community means that you will meet lots of new people of different ages, backgrounds and interests, so you can enjoy making lifelong friendships!

Specialist Staff
Most of our lecturers are industry savvy and are experts in teaching 16-18 year olds. They have lots of valuable experience and knowledge to pass onto you.

Independence
College is a more mature and relaxed environment than school and you are treated like an adult. You'll be on first name terms with your lecturers so no more Sir and Miss! You can also start to make your own decisions.

Free time
Your timetable will be very different to school. You will have a lot more free time to take part in extra-curricular activities, study, or get extra money and work experience with a part-time job.
Different environment
College is a very different learning environment to school. You may even become more inspired and have a new motivation to work towards your future goal in a college environment.

More choice
A college can offer a much wider choice of A-Level subjects, plus vocational courses in lots of different subjects and at different levels.

More opportunities
You will have the opportunity to take part in lots of different activities outside of the classroom to boost your confidence and help you develop your skills and personal qualities.

Specialist facilities
A college can invest in an extensive range of industry-standard facilities to give you the skills and knowledge to prepare for university or employment, and can also offer subjects that need specialist facilities.
Why choose Sunderland College?

94.7% of our students progressed to further study, university or employment
(*Based on 16-18 year olds desination data 2016/17 academic year)

Our achievement rates are well above the national average. 

We have the widest range of courses in the region.

We have recently invested £50 million in our facilities.